An alliance between the University of Miami and Universidad del Turabo through the School of Engineering and the Puerto Rico Energy Center is providing free energy audit services to provide energy-saving recommendations to small and medium-sized businesses through a team of students and professionals. In this way both companies and students benefit, as the latter acquire a valuable experience for their future professional career. Our current team has 9 students, 2 teachers and one technician. This equipment is part of the US Department of Energy's Industrial Assessment Centers program (DE-EE-0007706).
Our expertise
Conducted over 300 ASHRAE II Energy Assessments funded by the U.S. Department of Energy at NO COST to manufacturing plants in Florida and Puerto Rico since the year 2000. Recommendations from industrial assessments have averaged about $150,000 in potential annual savings and 25% energy savings for each manufacturer.
Assessment recommendations save you money...
No obligation to implement any recommendation...
Confidentiality agreement to protect client proprietary information...
Operations not affected during assessment and data collection…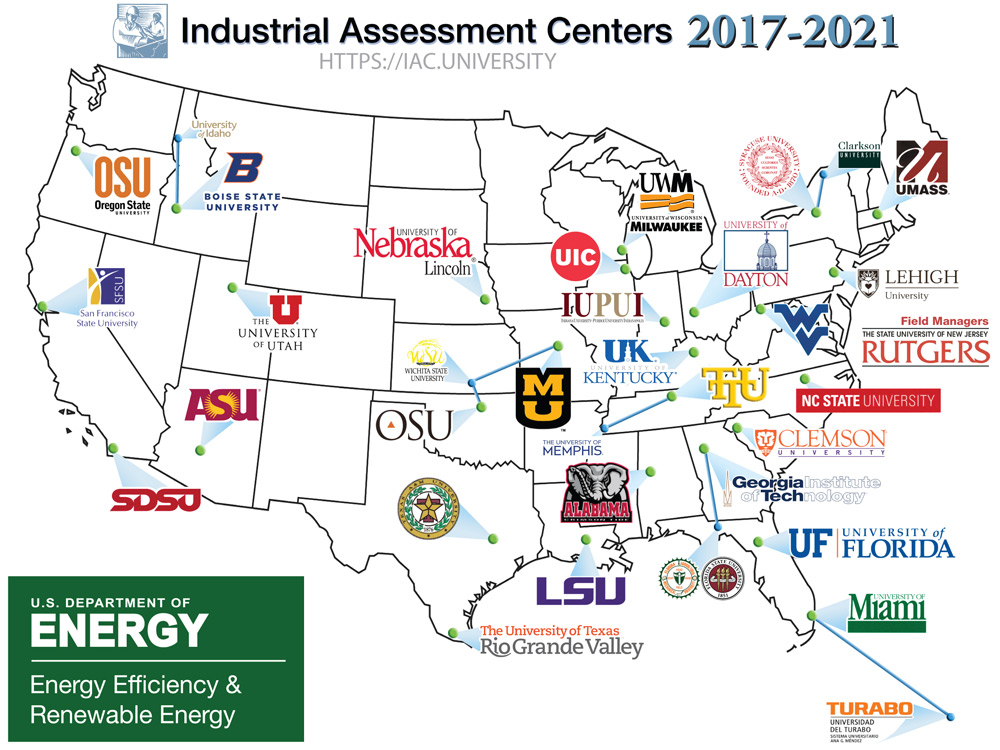 Who is eligible?
Small and mid-sized manufacturing plants with Standard Industrial Classification Codes 20-39 are eligible. Most are located within 150 miles of a host campus and meet the following criteria to qualify for these free assessments:
Gross annual sales below $100 million
Fewer than 500 employees at the site
Annual utility bills more than $100,000 and less than $2 million
No in-house professional staff to perform the assessment
Some limitations do apply on assessments performed at multiple facilities with the same corporate entity
Services
Electrical consumption
Lighting inspection
Air-compressor audits
HVAC analysis
Besides performing walkthrough assessments, we use current transducers and data loggers that provide a quantitative measure of the energy being consumed in the plant. This data enables us to determine when and where the energy is being wasted. We also provide an estimate of how much your company could save, by implementing our recommendations, and the payback period.
As a final product, the company receives a report with the observations and recommendations for the reduction of energy consumption as well as the amount of investment necessary to make the recommendations with their corresponding repayment time
For questions and/or to schedule an assessment:
University of Miami - Industrial Assessment Center
Dr. Shihab Asfour, Director
Department of Industrial Engineering
1251 Memorial Drive  #268 McArthur Engineering
Coral Gables, FL 33146
Tel: 305-607-7676
Email:  sasfour@miami.edu
www.iac.miami.edu
Universidad del Turabo - UM Satellite Center
Dr. Amaury Malavé Sanabria,UM Satellite Director
Department of Mechanical Engineering
PO Box 3030
Gurabo, Puerto, Rico 00778-3030
Tel: 787-743-7979 Ext. 4731
Email: ajmalave@suagm.edu
www.prec.ut.pr